Our Short Story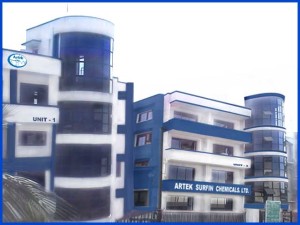 The ARTEK's Chemistry is GOOD for Business,be it General Metal Finishing /Electro-coloring / Precious Platings or Multi-Layer PCB platings. It makes a sound Business sense.The ARTEK's Chemistry is User/Environment Friendly, Consistently-Economical that took our group turnover to over 3000 Crores, which, we owe it to our die-hard ARTEK clients,who made it a success. Our relentless commitment to Research & Developmental activities and various global alliances has enabled us to offer the most comprehensive range of Surface finishing Processes, complemented by state-of-the-art equipments and plating plants to the end user Industry.
We at Artek Surfin chemicals have never compromised over the quality of end product; this belief has helped us to start from the stringent selection process of raw materials with strict quality specifications given to our suppliers. Hence, all our products are thoroughly tested as per as per the Artek Standard specifications define at our quality control facilities.
Artek Surfin Chemicals has 4 manufacturing plants in India of which one is in Mumbai, located in suburban industrial area of Andheri that houses state of R& D, Instrumentation labs and mini pilot plants. Second plant is in Vasai in Thane district and third plant is in Daman that houses state of manufacturing and processing units. Fourth Plant is coming up in Tarapur.
All our three plants are certified for Quality standard ISO 9001: 2015 & our Daman unit is certified for Environmental Standard ISO 14001: 2015 & now we are upgraded with Occupational Health & Safety Standard OHSAS 45001: 2018.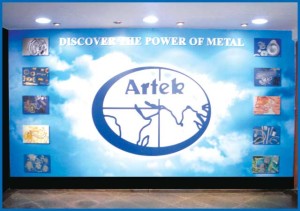 Artek Surfin chemicals has an extensive dealership model across the country in locations like Delhi, Chandigarh in North; Bangalore & Chennai in south and Calcutta in eastern region. Besides this there are other dealer outlets too that helps us to reach out to our other customers present in different parts of the world. And also with our extensive network of sales offices, representatives and distributors we are constantly striving to reaffirm the commitment of every sale and complete support thereafter.
We at Artek are always available to our customers at their faintest query calls and have looked forward on the Principle that firstly, if the Benefactors themselves benefit professionally, the Beneficiaries will automatically continue to benefit… I.e. successful & profit-making customers have proven to be the Best Business Partners!
Today Artek, with the backing of its multi-locational manufacturing plants and a strong dedicated team of 300 employees, comprising of R&D, Sales, Supply chain and all other experts resources from across its various business segments, jointly serve the challenging demands of our valued customers and channel partners.
Artek Surfin Chemicals Ltd. has acquired two plants manufacturing PVC Additive in USA and Germany and in operation as Galata Chemicals. LLC and Galata Chemicals Gmbh.